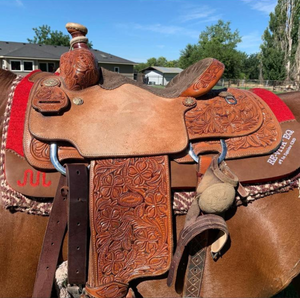 Jana Bean
Home Town- Ft. Hancock, TX
Accomplishments:
3x NFR qualifier
Go round winner at the NFR
Ram National Circuit Finals qualifier 
Multiple time circuit finals qualifier 
Multiple Pro Rodeo wins
Arena record holder at several pro rodeos
Futurity/Derby champion on multiple horses
Texas Rodeo Cowboy Hall of Fame inductee
"I use the Gastro-Snax and the Locked-In+ oil the most! I love all of the products and they have helped my horses with their focus and being calmer because of the stomach buffers. It's a great product that is easy to use and the horses love them!!"
Nicole Baggarley
2021 NFR Qualifier- Breakaway Roping
2x Turquoise Circuit Finals Qualifier 
2021 Reserve Champion at Cheyenne Frontier Days 
2019 Bronze Medalist at Days of 47
3x CNFR Qualifier 
"I use both the Gastro-Snax and the Locked-In +. I absolutely love these products to ease my horses anxiety on both my rodeo horses and young horses. When seasoning and hauling my young horses these products have been an absolute game changer."
Benz- (Clayton Hass, Owner)
2021 Average Champion
2022 The American Rodeo Champion
2022 Champion & Reserve Champion Calgary Stampede Days
Qualified 3 guys to 2022 NFR
2021 & 2022 Runner-Up PRCA Steer Wrestling Horse of the Year
Over $400,000 in earnings in 2022 alone 
"A big component of Benz' routine for his nerves is the Re-Vita+ CBD Locked-In+ product. We tried Locked-In + for the first time at the 2021 NFR and noticed a difference in his demeanor very quickly. We have been using all of the Re-Vita+ EQ products for the 2022 season!! 
Between the Locked-In + and Gastro-Snax, Benz has stayed eating at all times and has maintained his composure better than ever!"
Tyler Calhoun
•2019 & 2021 Vegas Tuffest Champion
•2021 Jr. World Champin
•2022 THSRA State Champion
•2022 NHSRA National Champion
"The Gastro-Snax are my favorite product because my horses absolutely love them and it knocks the edge off of them and takes the anxiousness away but doesn't take away from their power and performance!"
Macon Murphy
2022 NFR Qualifier 
Louisiana High School State Champion 
Best of the Best Champion 
2021 College National Champion 
PRCASoutheastern Circuit Champion 
"I use both the Locked-In+ as well as the Gastro-Snax  and the calmness in my horses is unbelievable. I use them a lot when hauling, and always before I rope in a loud performance. I can't begin to explain the difference it's made for my equine athletes!"
Taylor Munsell
2x NFR Qualifier- Breakaway Roping
2x PRCA Prairie Circuit Champion
College National Finals Champion
BFI Champion
Northern Breakaway Champion
The American Reserve Champion
3x American Qualifier
"Gastro-Snax I use as a daily treat while hauling and before performance to keep them in the zone at big loud places. Locked-In+ I use with the Gastro-Snax for that extra focus at the big loud rodeos and ropings. I use the Liquid Gold daily on my A team horses to keep them feeling their best!"
Josey Murphy
21st in the 2022 WPRA Breakaway
2020 National High School Breakaway Champion
 2021 LRCA champion Barrel Racer and All-Around cowgirl. 
"I love the Gastro-Snax. It keeps my horses calm and relaxed and the Locked-In+ I find keeps them focused and ready to perform at their top peak!"
Julie Murphy
LRCA 5-Time Champion Breakaway Roper
Texas Pro Rodeo Association 5-Time Breakaway Champion. 
BFA Top 50 futurity
Top 15 LRCA barrel racing. 
APRA Average champion barrel racer.
"I use Gastro-Snax daily. They absolutely love them. This helps keep them ready to learn in the training pen. I use the Locked-In+ at barrel races to help my horses focus and stay calm, cool and collected… I also use the Liquid Gold on my older horses to help keep their joints healthy and feeling good! I love Re-Vita!!!"
Kailee Murdock
Xtreme Vegas Mini Millions Champion and also won the 2D for over $17k
2nd at Cave Creek Rodeo,
Kingman Rode Champion
2nd at Vernal Rodeo 
Rookie of the Year the Turquoise Circuit
"I use Gastro Snax and Locked-In+ . Between both products I have struggled less with ulcers and anxiousness at the gate. My horses look for them before their runs, giving me an edge when I'm going in the gate."
Kyan Wilhite
15u Joe Beaver Champ 2022
Reserve Champ Future Stars 2022
15u Patriot Champ 2022
Vegas Toughest/Jr World Qualifier 
2022 Cinch Roping Fiesta Preliminary Champ 
"I use the Gastro-Snax and the Liquid Gold. It's good for gut health, joint longevity, and their mindset in big situations. Keeps them calm in tight situations and allows them to focus!"
Danielle Lowman
-Indian National Finals Rodeo World Champion 
-First ever Navajo Women to Make the National Finals Breakaway Rodeo 
-American Semi Finals Average Winner 
-Women's Professional Rodeo Association Rookie Heeler  2019 
-Bob Feist Invitational Champion Heeler all girl 
-Wildfire All-Girl Champion Heeler 
"I use the Locked-In+. This product has made my horse be more focused and calm during the loud performances. All the products have made them focus in on their job, the nerves don't get to them when they are Locked-In and that's what I love!"
Leslie Smalygo
-2022 NFR Qualifier
"My favorite products are the Gastro-Snax and the Locked-In+ on my horses.  It relaxes and let's them get great rest, the Locked-In+ has done wonders on a young horse that is very watchy. He is calm, focused, and ready for his run.  I can't imagine him without it.  For myself I love the Heat mobility, and cooling roll-on's.  I get very sore as I drive a lot and work many young horses.  I don't feel a thing with those products on me to keep me at my best."